Over the past five years, it has gotten increasingly complicated to reach and get the attention of consumers. Consumers are more distracted, less engaged and more in control of their media than ever before. That's why it's more important than ever for local businesses to have a balanced marketing plan in a variety of media.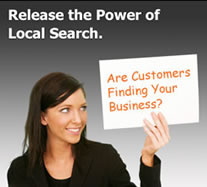 According to a report by TMP Directional Marketing in 2008, search engines became the most referenced primary source of local business information. Search engines were followed by Print Yellow Pages, Internet Yellow Pages and Local Search Sites (such as Google Maps or Yahoo Local).
While most local businesses have a presence in offline media sources, few have an online presence. The TMP report showed that online local business searchers look for specific information such as phone numbers, addresses, driving directions and whether a business has the product or service they need.
Once a consumer has conducted a search and found the information they are looking for, they then make a selection on which business to contact and/or make a purchase from based on:
Business location,
Brand, or
Familiarity with the business.
Although ranking is not a top factor a consumer considers when selecting a business to contact, the position of a local business listings often makes the difference in whether it is considered in a consumers search. Noteworthy, however, is the fact that few searchers typically go past the first page of results when selecting a local business from search.
The TMP report also revealed that the majority of consumers chose to contact businesses offline via an in-person visit or phone call following their online search.
Consumers are now using the Internet as their primary source for local business information. In terms of numbers, online search accounted for 61% of all primary sources of local business information. And if your marketing strategy does not include an online marketing mix, you're leaving money on the table.
No longer are consumers looking to just one or two different sources when seeking out local business information. They are using multiple sources, many of which are online. To ensure that you are found, you must create a diverse media mix that will allow consumers to easily find your product or service offerings, regardless of their access point.