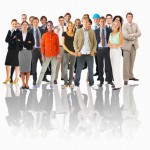 Consumer reviews are one of the most important and ever popular trends around.  Why?  Because consumers are looking for the best, cheapest and/or most ethical goods and services on the market that meet their needs.
According to the latest twice-yearly Nielsen Global Online Consumer Survey of over 25,000 Internet consumers from 50 countries, personal recommendations and consumer opinions online are generally the most trusted forms of advertising. Seventy-two percent of US Internet consumers trust consumer opinions posted online.
Surprising?  Not hardly.  Consumers want trusted advice and recommendations.  They want to feel in control, make informed decisions and avoid mistakes when making a purchase.  This is particularly important given the wide range of choices for just about anything in the marketplace.
As a small business, this means that you must adapt to the new powerful peer-to-peer arena if you expect consumers to buy from you instead of your competitors.
There are 1.6 billion consumers online and the majority are skilled bargain seekers, avid online networkers and opinionated reviewers and advisers.  Their ability to share online has become easier than ever before.
Google's new Rich Snippets program allows the search engine to now display a product rating review count and actual review text in Google search results.  And the ease of producing video with technologies such as the Flip camera and Apple's new iPhone 3GS, that provide direct upload capability to YouTube, make video reviews a popular medium.
As a business owner, you would do well to join the conversation, especially when you are the topic of discussion.  This can include posting apologies and solutions, preferably next to reviews from unhappy customers.  You can also refute any unwarranted claims that you feel (or can prove) are unfair or inaccurate.
The benefits?
Participating in the online conversation lets you know how consumers feel about your products and services.  Favorable reviews are an obvious endorsement for your business and can bring new customers.  Negative reviews provide you an opportunity to respond publicly and fix any issues internally to improve the perception of your business.
Changes in behavior and technology require a more transparent marketplace.  To keep pace with consumer trends and expectations, it is important to:
Track consumer reviews of your goods and/or services.
Actively respond to negative reviews.
Promote positive reviews.
If you do not currently have a system or processes in place to "join the conversation," contact us now and we'll help you get underway.