Your customers are attracted to great offers — offers so fantastic they seem difficult to believe.  Offers that seem so generous, they'd be clinically insane not to accept them.  In the words of Don Corleone, "an offer they can't refuse."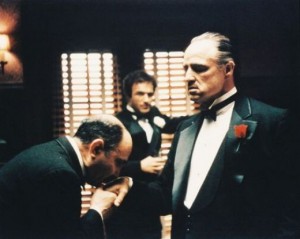 What makes for an irresistible offer?  In today's environment, you must present an offer that makes doing business with you so easy and beneficial that you stand out from the crowd.  You want to show that the price you are asking is a mere drop in the bucket compared to the value received.
With all the noise and distractions in the world today, both online and off-line, being able to create an urgent, gotta-have-it-now desire in the minds of your customers can be challenging.  And since consumers are searching more online before making off-line purchases, now is as good a time as any to ensure a constant flow of business through your door with irresistible offers.
Here are some ideas to convince your potential buyers that your offers are truly irresistible:
1.  Make your customers relieved to hear how little you are charging. Do this by stating higher prices for other products and services first, then giving your price, which is less.  For example, if you are selling reading specs, mention that laser eye surgery is $1000, new eyeglasses can run $300, but you're buy-by-mail reading specs are just $19.95.
2.  Spread out the payments. It has been shown that offering several smaller payments versus one large lump sum is beneficial.  Just take a look at the late night infomercials.  This is a tried and proven method that works well.  After all, which sounds better — "$19.95 a month" or "$240 for one year of service?"
3.  State the price in terms that make it seem the smallest. Even if you want payment upfront, state the price in terms that make it seem small.  You may have seen this method used in life insurance ads.  For instance, a $197 annual policy delivers benefits all year long for just $.54 a day — less than the price of a hamburger.
4.  Show the value or return in comparison to the price. Demonstrate that the fee you charge is a drop in the bucket compared to the value your product or service adds or the return generated.  If your renewable energy seminar cuts heating and cooling costs 10 to 20% a year, the prospect with a $10,000 fuel bill for his commercial facility will save $1000-$2000 every year — more than justifying your $199 seminar fee.
5.  Pre-empt the price objection. For expensive items, state the price up front and use exclusivity as a way to weed out non-prospects.  The more you tell someone they don't qualify, the more they will insist they do and want your offer.
Your target market wants to buy from you.  But, you must stand out from the crowd to get their attention.  One of the best ways of doing so is with an irresistible offer they simply can't refuse.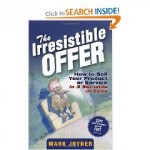 If you are struggling with putting enticing offers in front of your customers and clients, discover how to manipulate your offer so that customers find it truly irresistible with The Irresistible Offer.  Grab your copy today and have your customers falling over themselves to buy whatever you are offering.