"Your Customers Are Online…Can They Find You?"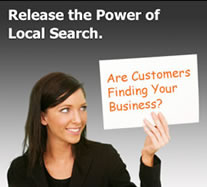 Every day millions of consumers search for local businesses online. And, if your business isn't easily found on the first few pages of the search engines, you are losing business to your competitors. We make it our job to make sure they find YOU!
Research shows that for every dollar U.S. consumers spend online, they spend an average of $5 on off-line purchases in local establishments. We can help you provide your customers with all the information they need to find you when they are in the buying cycle. We offer an affordable solution that gets your website noticed by the search engines and brings more new customers to your business, which helps increase your profits.
Why Invest Thousands of Dollars In the Development of a Site
That's Not Optimized for the Search Engines?
We offer a powerful service for just $499 that will help you attract more customers through Local Search Engine Optimization (SEO). When you order our service we will analyze your website and your market and perform a Local SEO service that is going to get more visitors to your website and bring more new customers through your door.
Get Started With Local SEO Before One of Your Competitors Does!
Your Local SEO Package includes the following services:
In-Depth Keyword Research and Selection
Title Tag Generation to Help Your Website Visibility
Well Written META Description and Geographical Marketing Tags
Submission to Local Search Engine Directories (Google, Yahoo, MSN)
Submission to Online Yellow Pages (YellowPages, SuperPages, CitySearch, InsiderPages and Yelp)
1 Custom Article Written and Syndicated to Get Back-links To Your Website
1 Professional 30 Second Video Created and Syndicated to Help Market Your Business
The above steps will improve your site's overall visibility and "search engine friendliness." It will also help to drive quality, targeted traffic to your site – which will turn into quality, targeted leads!
So Don't Delay, Order Your Local SEO Package Today!
Only $499

For further information, contact us.
To learn about more ways to increase your profits, download our free report.