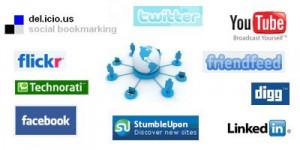 Facebook, LinkedIn, Twitter and more are social media services popular among millennials and baby boomers alike. The recent presidential election thrust many of these services into mainstream media because they proved to be quite an effective means to spread messages, open dialogue and promote interaction on issues important to the masses.   And although you may have heard of these services and may have even used a few, can you truly say that you've leveraged these services to outpace your competition and build your business?
What Is Social Media Marketing?
Social media marketing is the process of creating an online community or gaining increased awareness of your brand, product or service in existing online communities. It combines the objectives of internet marketing with social media channels such as Facebook, Flickr, Twitter, and Digg. It also leverages aspects of viral marketing to build brand awareness for your company.
Why Use Social Media For Marketing?
Social media has a number of characteristics that make it different from traditional media such as newspapers, television, books, or radio. It allows you to write and publish content that is remarkable, unique, and interesting to your customers. This content can then be promoted through social media channels. Social media marketing is a powerful strategy that will get you links, attention, more traffic and an increase in profits over time.
How Can Social Media Marketing Help Your Business?
Social media marketing can help you get the word out, engage people in conversations, educate your audience, and promote your company, product, or service. As a result, you will experience:
Increased brand authority and visibility.
Increased leads and/or sales.
Promotion of products or services.
Inbound links and traffic to your website.
Increased insight with your target market.
While your competitors are still focused on the same old marketing routines, take advantage of this great new opportunity to watch your influence and traffic grow.
Let us help you build a greater presence online, become an authority in your field, brand your company, increase your ROI and engage your clients.
Our Social Media Marketing Services
Your future success lies in your ability to attract, attain and retain customers through social media, which is becoming more important to stay ahead of the competition. The following are just some of the social media marketing services that we provide to develop a social media marketing strategy for you:
Profile setup with Twitter, Facebook, LinkedIn, etc.
Article Submission
Press Release Distribution
Video Promotion
Social bookmarking
Podcasts
RSS Distribution
Let us put a social media marketing plan in motion for you.
Call us toll free at (866) 824-9801 or click here to get started.